Since the launch of AMD's Zen 3, we've seen the architecture used in a number of the company's product lines, from desktop to mobile, and also server. Where we've yet to see it pop up is inside of the company's high-end workstation CPU series: Threadripper (and Threadripper PRO). With even AMD's latest-gen APUs built around Zen 3, we've known that Threadripper couldn't be too far behind.
Well, at this point, we're still not entirely sure when the next-gen Threadripper chips will launch (supposedly in a couple of months), but thanks to some leaks, we're getting a quick impression that much has improved with the performance, and perhaps optimization when using many cores.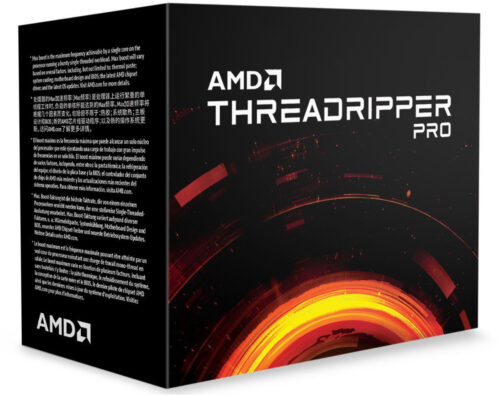 Tom's Hardware is reporting on one such leak, one that revolves around demanding photogrammetry workloads. From our own testing of photogrammetry workloads with Threadripper and other CPUs, we've found that performance with many-core CPUs can be hit-or-miss, with lower core count CPUs performing a bit better than the big guns. That's especially the case with the 64-core chips, which have often performed worse than the 32-core parts.
Well, in a battle between the current-gen Threadripper PRO 3995WX and the upcoming 5995WX, we get the impression that optimization has improved quite a bit. In one test, the next-gen 64-core chip cuts a rock project time from 205 seconds down to 157, while a school map drops from 844 to 608 seconds. These are huge improvements, to say the least.
With what we know of Zen 3, these improvements are not entirely a surprise, but are great to see some validation of. In previous-gen Threadripper series (and even the top-end Core X series from Intel), performance has been hit-or-miss in certain scenarios, making us to often recommend lower core count chips for photogrammetry.
We noticed that the 5995X in this leak had been tested with an NVIDIA GeForce RTX 3080, while the 3995X was tested with an AMD Radeon RX 6900 XT, so we had to do a quick sanity test on our own hardware with the same software (Agisoft Metashape) to see if the GPU could have influenced the performance increase here, and we came to the conclusion of "not likely".
Like many advanced workloads, photogrammetry doesn't conduct a single process inside of its overall workflow. Some actions use both the CPU and GPU, while others use only the CPU and GPU. In Metashape, both the Align Photos and Build Depth Maps use the CPU+GPU, but we found both the RTX 3080 and RX 6900 delivered ultimately the same performance. Other actions, like Build Dense Cloud and Build Mesh will use the CPU exclusively.
Ultimately, we're excited to see that the upcoming Threadripper is looking so good, effectively living up to our expectations of how Zen 3 could enhance the series. We look forward to seeing more leaks, and of course seeing the product actually get announced!